6 Malaysian women in the global science and technology scene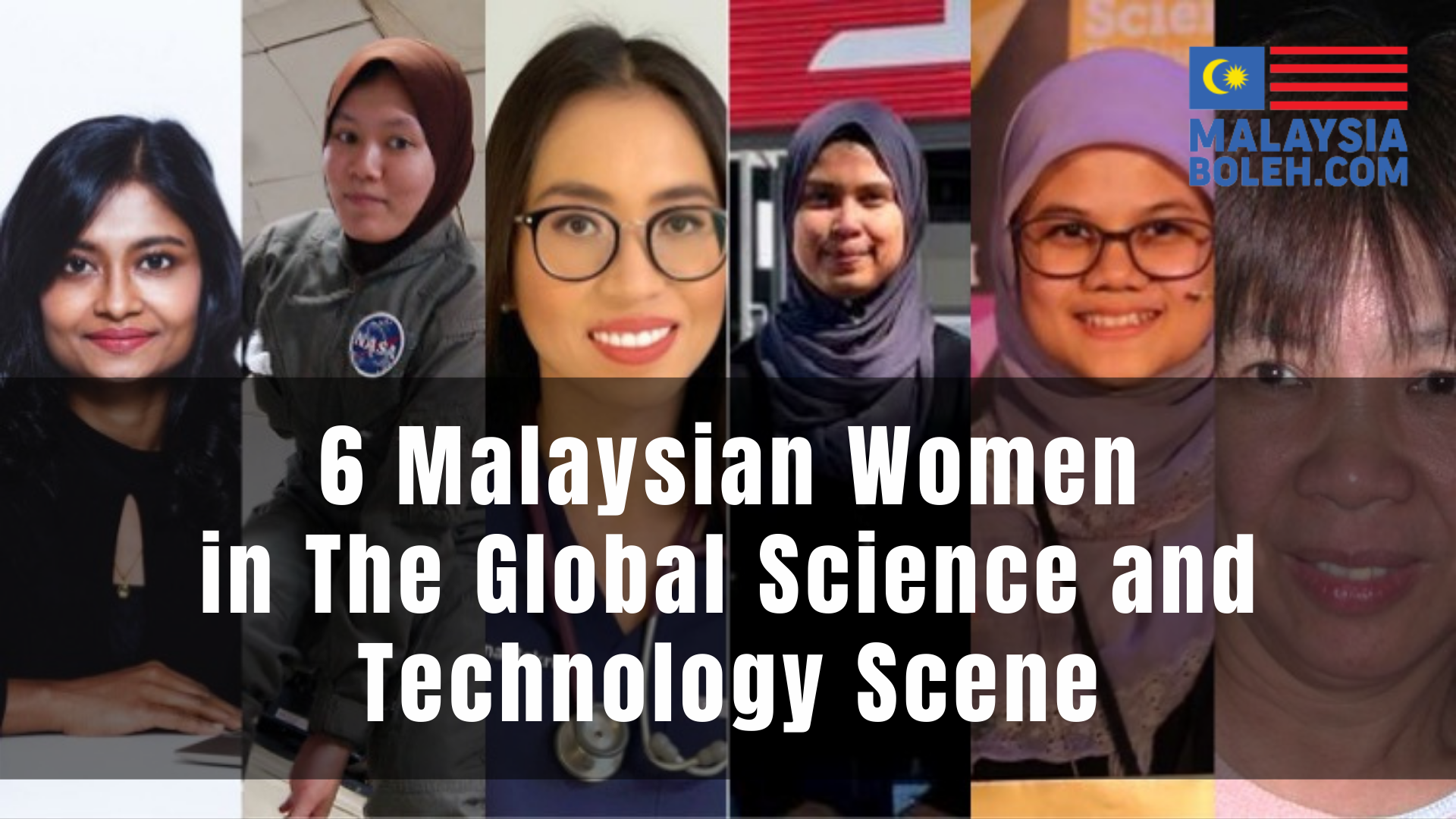 By Cemerlang.org
Women's role in science and technology has always been widely discussed in academic circles. Many scholars have noted that STEM fields have remained predominantly male with historically low women participation.
Despite these statistics and gender inequality obstacles in STEM, many Malaysian women have made a name for themselves on the world stage for science and technology. Today, on International Women's Day, we take a look at some of our country's women in STEM.
Dr Amalina Bakri is a Malaysian physician who held the record of most 1As scored in the Sijil Pelajaran Malaysia 2004. She achieved 17 1As – a record for the number of 1As achieved by a student in the history of Malaysian education.
She received the most prestigious Kijang Emas Scholarship from Bank Negara Malaysia to study medicine in the United Kingdom where she did her A-levels in Cheltenham Ladies College.
In 2013, she graduated with a medical degree from Edinburgh Medical School, as well as a degree in pharmacology. She did a sub-internship in Harvard Medical School, followed by a two-year housemanship in Cambridge, simultaneously completing her Master's in Translational Medicine and Therapeutics.
She is currently taking her PhD in Medicine at the Department of Surgery and Cancer, Imperial College London with a fellowship from the institution and funding from the National Institute of Health Research (NIHR).
According to Malaysiakini, Dr Amani was the principal investigator in a team of scientists, technologists and engineers to work on NASA's first-ever device that can measure extracellular ions from a single cell in microgravity.
She started off as an electrical engineering student at the University of Minnesota and volunteered to clean glass slides in laboratories. Her journey wasn't an easy one but she persevered. She went from cleaning glass slides to launching a nanosatellite together with a SpaceX rocket!
"I worked in these laboratories because I wanted to learn, but because I did the work so well, they started paying me and giving me opportunities. To the level that the professor recommended me to do a PhD."

– Dr Wan Wardatul Amani
In 2014, she chose Malaysia over working with the stars. Dr Amani has focused on creating devices that make the lives of local communities easier and more affordable. Her team is currently working on a cheaper device to monitor blood glucose.
Fakhirah Khairuddin is an alumna of MRSM Ulul Albab and continued her studies in Aerospace Engineering at the University of California, San Diego.
Fakhirah used to work as a propulsion development engineer at the University of California where she wrote the Matlab programming codes to study heat conduction of a rocket engine. In 2019, she won first place in the Northrop Grumman System Engineering Challenge where she must compete with 50 other teams ― her winning project was a robotic arm that was designed and programmed by her.
She is now based in Fremont, California and working as a Technical Training Robotics Engineering instructor at Tesla, teaching FANUC and Kuka robots to engineers and technicians.
PM berharap Keluarga Malaysia membudayakan amalan kelestarian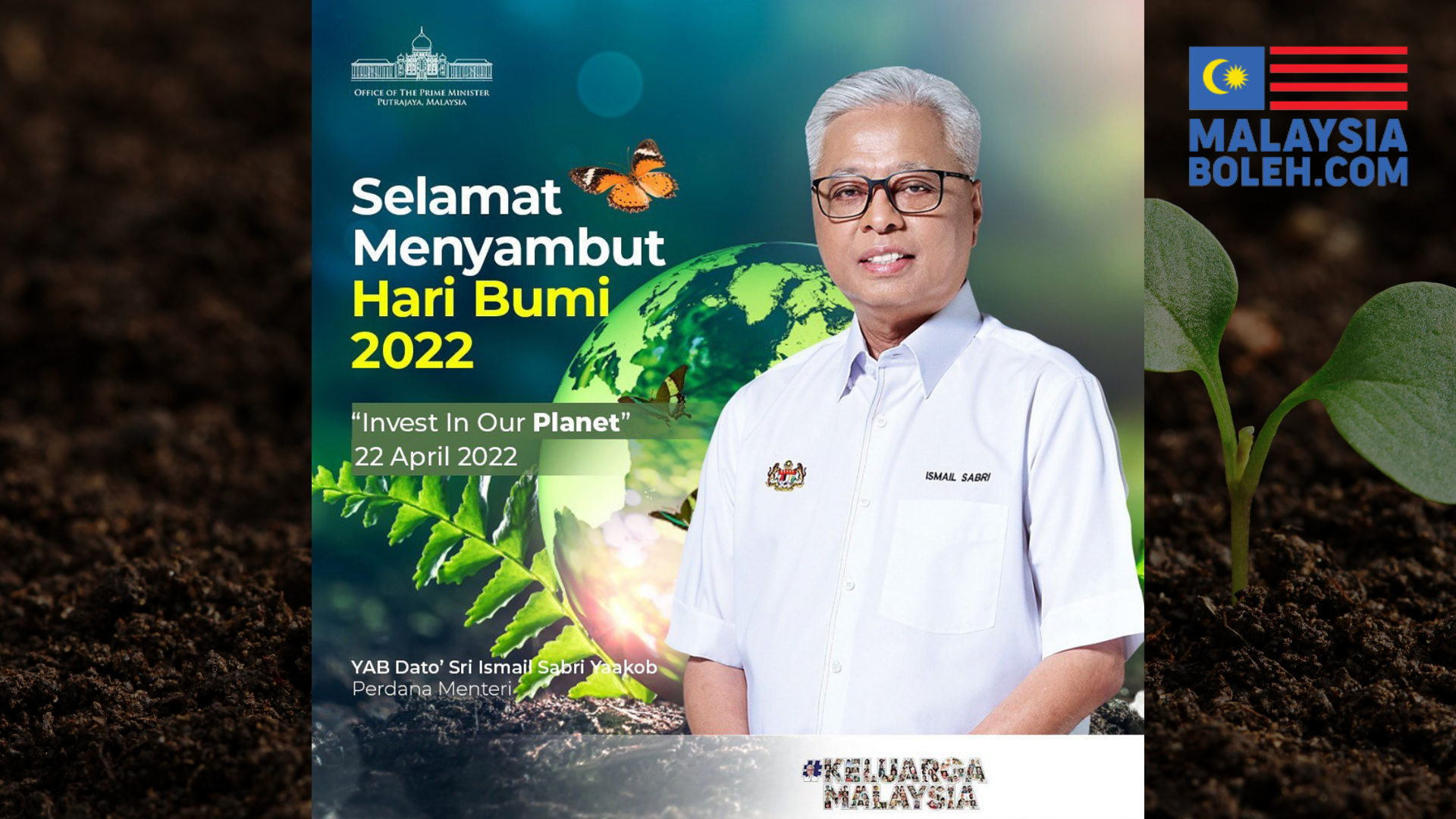 Kredit Foto: Instagram Datuk Seri Ismail Sabri
Menerusi perkongsian Perdana Menteri, Datuk Seri Ismail Sabri Yaakob di media sosial sempena Hari Bumi 2022, beliau komited untuk mempercepatkan pertumbuhan hijau, mempertingkatkan kemampanan tenaga dan mentransformasikan sektor air. Tambahnya lagi, inisiatif itu harus kekal sebagai teras pembangunan sosioekonomi negara.
Berdasarkan intensiti pelepasan 2005, selari dengan aspirasi menjadikan Malaysia sebagai negara rendah karbon. Kerajaan akan terus memenuhi komitmen untuk mengurangkan intensiti pelepasan gas rumah hijau (GHG) sehingga 45 peratus kepada Keluaran Dalam Negara Kasar (KDNK) pada 2030.
"Saya sedar ini memerlukan usaha yang bersepadu serta komitmen dan pelaburan hijau yang tinggi.
Namun, saya yakin dengan penglibatan Keluarga Malaysia, komitmen ini akan memastikan Malaysia seiring dengan usaha negara lain untuk mencapai matlamat global dalam menangani perubahan iklim dan meningkatkan daya saing negara," katanya.
Demi kelangsungan generasi akan datang, beliau turut menyeru seluruh Keluarga Malaysia supaya bersama-sama menggembleng tenaga dan menyumbang masa membudayakan amalan kelestarian.
Amalan seperti menghindari penggunaan plastik sekali guna dan penjimatan sumber tenaga perlu dijadikan kebiasaan dalam kehidupan.
Beliau turut mengajak sektor swasta dan Syarikat Berkaitan Kerajaan (GLC) untuk sama-sama memainkan peranan dalam usaha melestarikan alam sekitar.
Sejajar dengan Fokus Kelapan dalam Rancangan Malaysia Ke-12 (RMKe-12) iaitu Mempercepatkan Pertumbuhan Hijau, pembangunan ekonomi tidak harus menjejaskan alam sekitar, manakala liputan kawasan hijau perlu dipertahankan," katanya.
Beliau turut mendoakan agar seluruh Keluarga Malaysia terus bersemangat memainkan peranan dan memikul tanggungjawab bagi mewariskan Malaysia yang lestari kepada generasi akan datang.
Sumber: Astro Awani
Langkah-langkah memupuk semangat perpaduan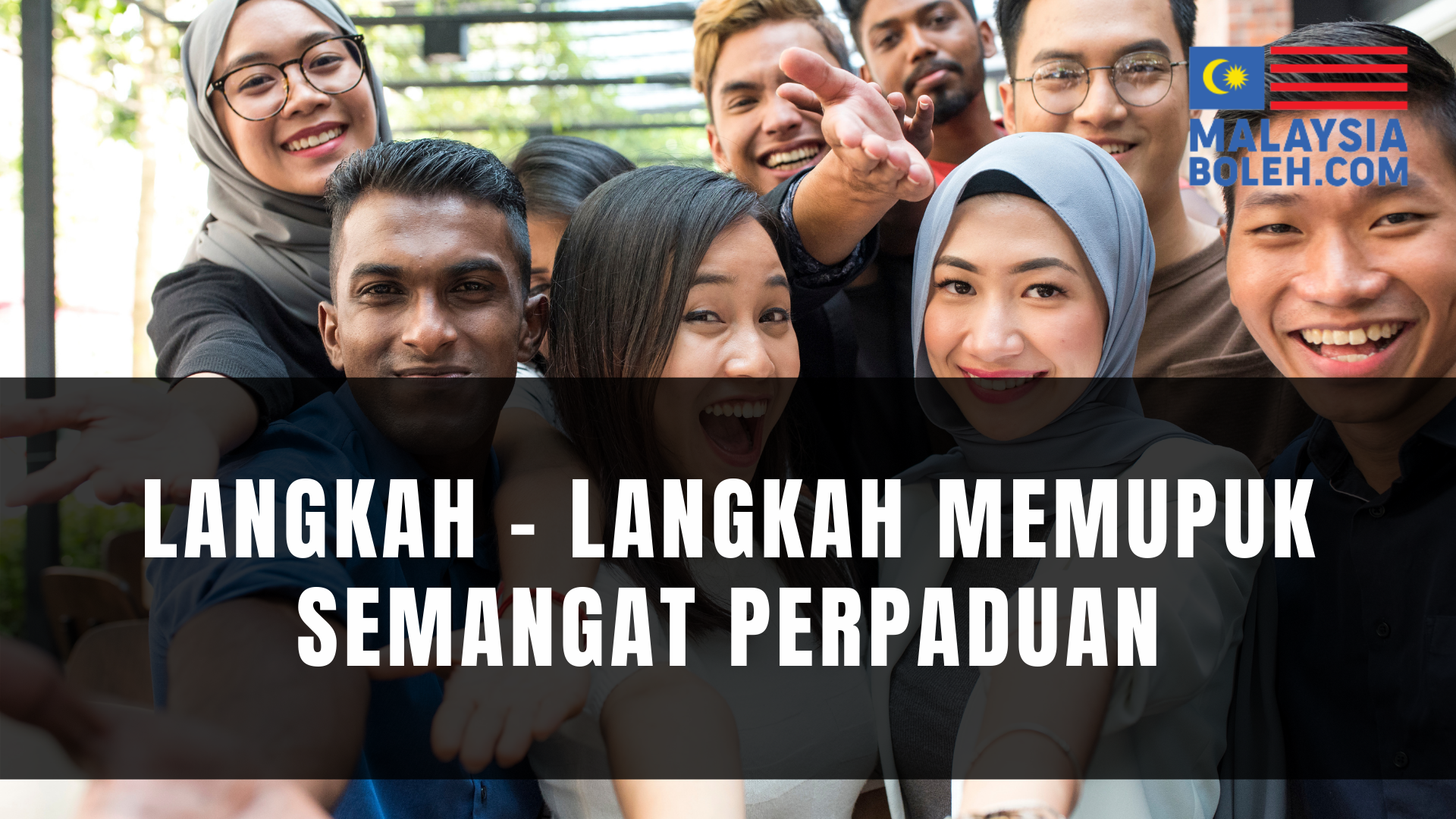 Keharmonian negara hanya dapat dikekalkan melalui perpaduan rakyat. Terdapat 4 langkah-langkah untuk memupuk semangat perpaduan.
1. Rakyat Malaysia seharusnya menghindari sebarang tindakan yang boleh mencetuskan provokasi kaum.
Media sosial perlu digunakan dengan sebaik mungkin tanpa mencetuskan isu perkauman atau yang seumpama dengannya.
2. Meraikan hari perayaan kaum Malaysia bersama-sama
Kunjung-mengunjungi antara satu sama lain.
Mengeratkan silaturahim antara kaum.
Memahami perayaan masing-masing.
Menghormati antara satu sama lain.
Makan dan minum bersama-sama.
3. Aktiviti dan sukan.
Beriadah dan melakukan aktiviti dan bersukan bersama-sama.
4. Media massa yang menyebarkan mesej positif tentang kepentingan perpaduan.
Pengaruh media massa amat penting dalam menyebarkan mesej-mesej yang positif.
Sumber: Jabatan Penerangan Malaysia
#MalaysiaBoleh
3 pejuang kemerdekaan wanita di Malaysia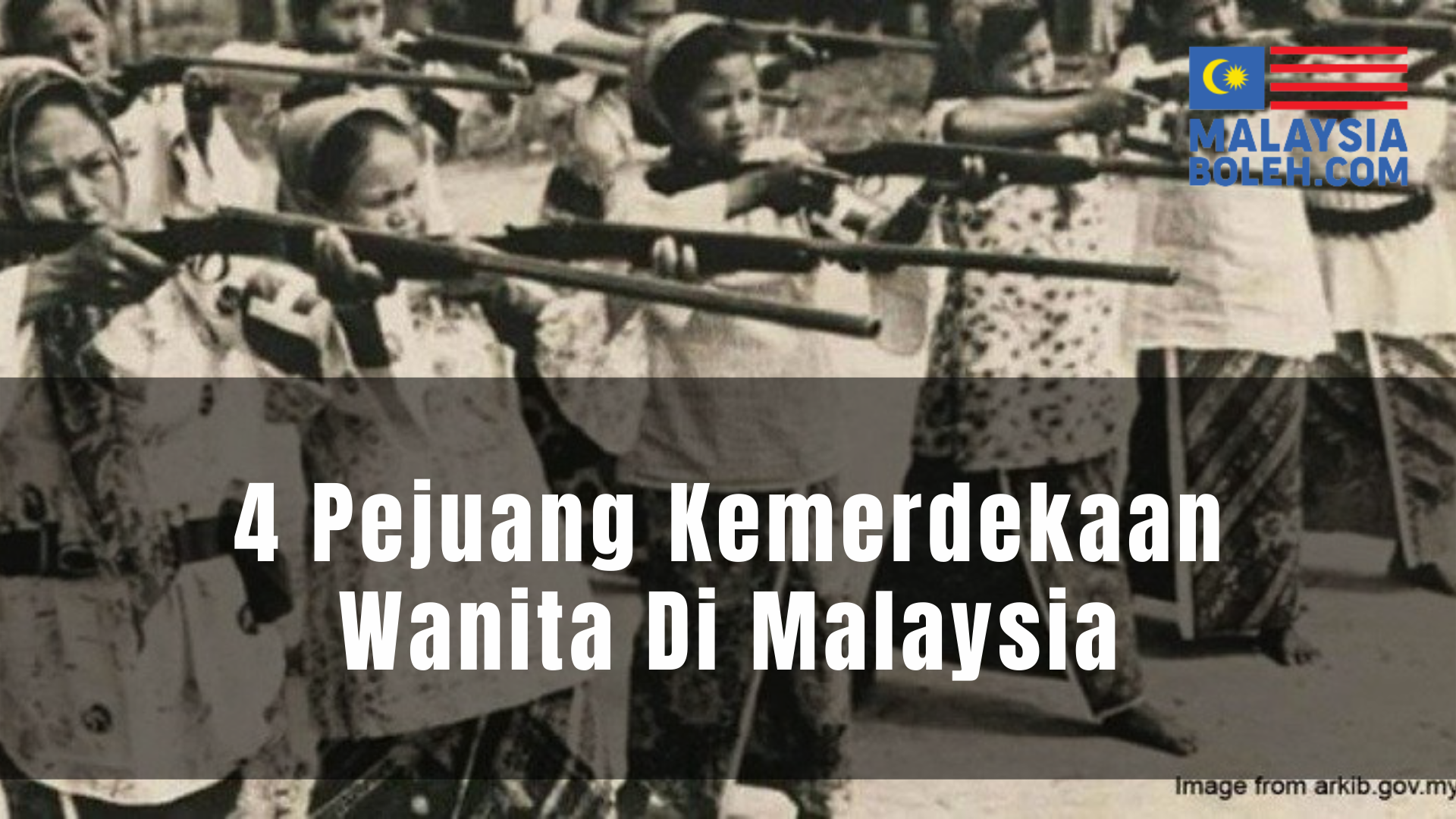 Pejuang kemerdekaan sering dikaitkan dengan lelaki. Namun, 3 wanita ini mempunyai kisah perjuangan merdeka yang tidak kurang hebatnya. Jom baca kisah perjuangan mereka!
Khatijah Sidek, Pejuang Kemerdekaan yang ditakuti oleh pemimpin UMNO
Dengan gelaran Puteri Kesatria Bangsa, Khatijah Sidek berasal dari Sumatera Barat, Indonesia ini telah menyeberangi Selat Melaka selepas Indonesia diusir oleh Belanda.
Beliau berhijrah ke Tanah Melayu untuk memperjuangkan hak kaum ibu dan wanita di sini.
Ramai yang tidak mempersetujui kemasukan beliau di dalam UMNO namun beliau dipertahankan oleh Tunku Abdul Rahman. Pada tahun 1953, Khatijah menjadi pepimpin wanita UMNO yang pertama berani menyuarakan hak wanita.
Tuntutan beliau untuk menambah perwakilan UMNO membuahkan hasil apabila 10,000 wanita menyertai UMNO di bawah pimpinannya.
Beliau dituduh terlibat dalam rancangan menjatuhkan kerajaan British di Singapura menyebabkan dia dipenjara pada tahun 1948.
Khatijah telah dipecat oleh UMNO pada tahun 1956 kerana lantang mengkritik pemimpin UMNO yang dianggap pengecut.
Kemudian, beliau menerima semula tawaran menyertai UMNO pada tahun 1971 dan dilantik menjadi Naib Ketua Pergerakan Kaum Ibu UMNO.
Khatijah Sidek telah meninggal dunia pada tahun 1982.
Suriani Abdullah. Pejuang kemerdekaan yang pernah ditikam askar Jepun
Suriani Abdullah merupakan rakan baik kepada Pengasan Komunis Malaya, Chin Peng ini berasal dari Setiawan Perak.
Suriani atau nama sebenar Eng Ming Cheng telah menyertai Parti Komunis Malaya (PKM) pada tahun 1940. Perjuangannya tertumpu kepada kebajikan golongan buruh dan wanita.
Diberi gelaran 'Serikandi Anti-Jepun' kerana keberaniannya menentang Jepun pada tahun 1941-1945 dan kerajaan British pada tahun 1948-1957. Beliau pernah ditangkap dan disiksa oleh Jepun sewaktu berusia 21 tahun.
Kerana dia tidak pernah lelah mendengar keluhan rakyat, beliau dianggap sebagai ibu oleh rakyat.
Beliau meninggal pada 21 Mac 2013 di Thailand.
Shamsiah Fakeh, pejuang kemerdekaan pasukan gerila
Ratu Rimba Malaya yang berasal dari Negeri Sembilan ini mempunyai keluarga yang menyayat hati.
Shamsiah Fakeh pernah berkahwin sebanyak lima kali. Salah seorang bekas suaminya merupakan seorang tali barut askar Jepun. Kemudiannya beliau berkahwin dengan Ibrahim Mohamad, seorang ahli PKM yang menjadi suaminya sehingga suaminya meninggal pada tahun 2o06.
Shamsuah dilamar oleh UMNO dan Parti Kebangsaan Melayu Malaya (PKMM) tapi beliau memilih untuk menyertai British.
Beliau memimpin Angkatan Wanita Sedar (AWAS). Tapi British mengharamkan parti berhaluan kiri PKMM, AWAS, API, GERAM dan banyak lagi.
Shamsiah kemudiannya mengangkat senjata menyertai suaminya berjuang di dalam hutan. Ramai yang tidak setuju dengan perjuangannya, namun Shamsiah mengatakan yang dia masuk ke hutan kerana semangat cintakan tanah air.
Akhirnya dia dan suami telah ditangkap dan dibuang negara. Mereka telah dibuang parti dan dihantar ke China.
Hebat kisah perjuangan tokoh kemerdekaan wanita ini. Tidak mustahil untuk wanita-wanita hebat berjuang bersama-sama untuk menjaga keamanan negara!
#MalaysiaBoleh